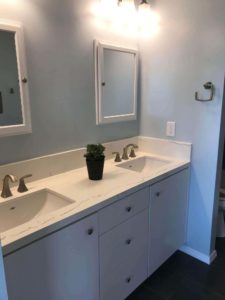 When people consider home remodeling, the bathroom is one of the most popular rooms they often want to redo. If you live in an older home, you can update your bathroom with the latest technologies and amenities you may be wanting to enjoy. A bathroom renovation has many benefits, but if you want to be sure that everything runs smoothly during this project, you need to hire professionals who are experienced in this line of work. Since 2003, Steele Plumbing has offered premium, professional plumbing services to residents throughout the San Diego area. We have remodeled many bathrooms over the years so you can trust our licensed and certified plumbers to properly plan your new bathroom and install its appliances so that you can truly enjoy all of its advantages. We would like to tell you more about the benefits of renovating your bathroom if you are considering this project.
Increase the Value of Your Home
When people are looking at homes to buy, one of the most important rooms is the bathroom. If your bathroom is outdated, it can be harder to sell your home. And, if there are plumbing issues, it is even more difficult to find a buyer. When in comes to selecting the best look for your bathroom, you will want to avoid any trends that may date the room. This is especially true if you are not ready to sell your home any time soon, according to Hanscomb Federal Credit Union. Our staff at Steele Plumbing can help you pick out the right decor for your new bathroom, and we also can take care of any plumbing issues there may be.
Improve the Efficiency in Your Bathroom
If it has been years since your bathroom has been updated, you will save money, energy, and water by renovating this room. The water heater, faucets, and toilet are most likely outdated, and this can be costly. Steele Plumbing can show you aerated faucets, on-demand water heaters, and water-efficient toilets that we can install during your bathroom renovation. You will immediately see the results of the improved efficiency in your home.
Provide an Oasis in Your Home
With all of the stress you have to deal with in your daily life, it can be wonderful to have a place in your home where you can go to unwind and relax. Steele Plumbing is here to help you design a bathroom you can consider as a calming oasis by installing relaxing features and using peaceful and serene colors. Our staff knows where to find the ultimate bathroom amenities to give the room a vibe of relaxation and retreat from the stresses of the average day.
Considering a bathroom renovation? Contact Steele Plumbing today at 619-326-4917 to set up an appointment for a consultation with our expert staff and get started on planning the bathroom of your dreams.