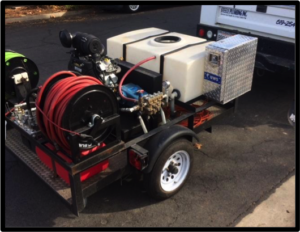 Steele Plumbing provides Residential & Commercial Sewer Drain Jetting
Steele Plumbing is your Best Choice for San Diego Plumbing services.  Their team of professional and seasoned plumbers take extra care to provide you excellent plumbing services.
Clogged Sewer Drains are a common problem in San Diego that result in backup of sewage. Not something you want to experience!
The best solution for clearing sewer drains is hydro-jetting, also referred to as "jetting".  The Steele Plumbing team are experts at Hydro-jetting residential and commercial property.
Maybe you are already dealing with a potential clog in your sewer line, or you just want to make sure that your sewer line is clean and clear of problems avoiding the risk of sewage backup.  Steele Plumbing hydro-jetting service will save you money and time by preventing sewer clogs or other problems related to the buildup of debris in your sewer lines.
Click Here to learn more about Hydro-Jetting
Contact Steele Plumbing for San Diego sewer drain jetting and San Diego drain cleaning services.   (619) 254-7285